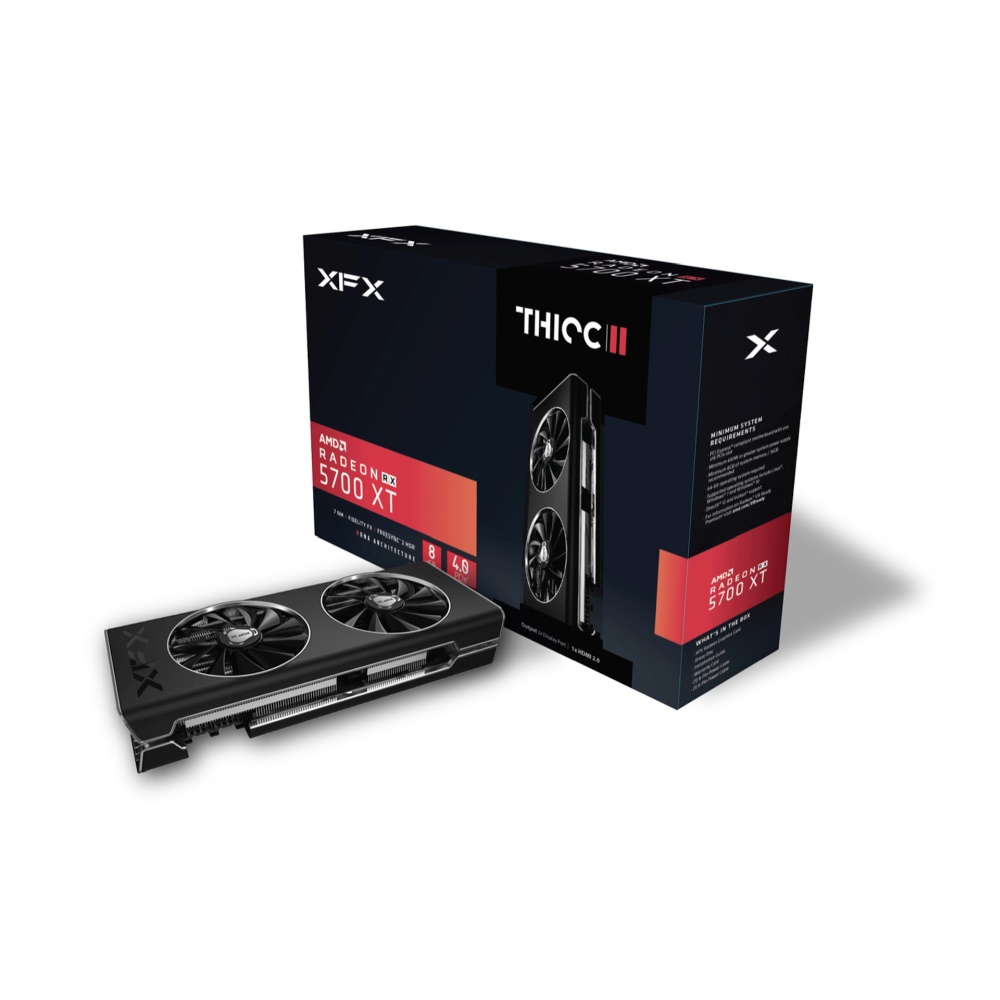 RX-57XT826D6
Radeon™ RX 5700 XT 8GB GDDR6 THICC II
BEND THE RULES. Great gaming experiences are created by bending the rules. The AMD Radeon™ RX 5700 Series GPUs are powered by the all-new RDNA architecture and are designed from the ground up for exceptional 1440p performance, exceptional power-efficiency for high-fidelity gaming. Equipped with the latest 8GB of GDDR6 high-speed memory and PCI Express 4.0 support, delivering twice the bandwidth.
Built for the gamer.

1755
1905
8
14
GAME CLOCK (MHZ), UP TO
BOOST CLOCK (MHZ), UP TO
GDDR6 MEMORY SIZE (GB)
MEMORY CLOCK SPEED (GBPS)

Introducing the XFX THICC II. Built on the acclaimed Ghost Thermal 2.0 designs to yield lower temperatures and heightened performance that adapt to the intensity of the moment. With nearly twice the heatsink surface area and 35% less fan noise, the THICC II brings you ahead of the curve.
Get the very best FPS the 5700 XT Series can deliver. Thanks to the two 100mm fans, the THICC II stays cool and quiet, allowing you to achieve higher boost clocks.
XFX Radeon RX 5700 XT THICC II 8GB GDDR6, DX12 VR Ready, 3x DP HDMI, PCI-E AMD Graphics Card (RX-57XT826D6)
Key Features
RDNA architecture
Advanced 7nm GPU
PCI Express 4.0 Support
Radeon Image Sharpening
FidelityFX
Radeon Anti-Lag
Microsoft® Windows® 10 Support
Microsoft® DirectX™ 12 Support
7nm Technology
AMD Virtual Super Resolution (VSR)
AMD Relive
AMD FreeSync 2 HDR
AMD Frame Rate Target Control (FRTC)
AMD Eyefinity multi-display technology
AMD Radeon Adrenalin Software 2019
AMD WattMan
HDMI 2.0b
Displayport 1.4 w/ DSC
Dolby TrueHD and DTS-HD Master Audio Support
Up to 6 Displays Supported, (May Require the Use of MST Hubs)
OpenGL 4.5 Support
OpenCL Support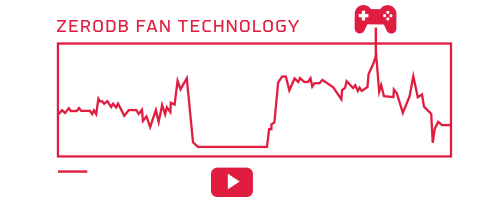 XFX Zero DB Auto-Load Sensing Fans
Power when you need it and quiet when you don't.
XFX fans are equipped to run at the highest possible performance, while our Zero DB Fan System will also keep your fans running at efficient RPM in order to minimize annoying fan noise by lowering RPM all the way down to Zero RPM. When the heat is on during intense gaming, our fans will speed up as needed.
Fidelity FX
FidelityFX is a collection of high-quality post-process effects that automatically collapse multiple effects into fewer shader passes to reduce overhead and free up your GPU for the visceral experience you demand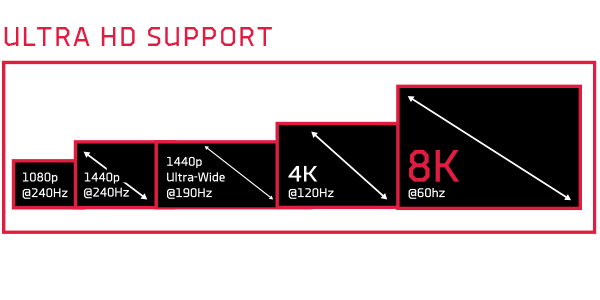 Ultra HD Support
The XFX RX 5700 XT is built for high-performance and high-resolution gameplay. Experience smooth gameplay performance at 1440p and 4k. With support for 8K you are ready for Next-Gen displays. See everything in mind blowing detail without sacrificing performance.
Radeon Freesync
Radeon Freesync 1 and FreeSync 2 HDR2 take full advantage of Radeon RX 5700 series, bringing gamers the best stutter and tear-free gamingexperience with higher refresh rates, lower latency and 10-bit HDR, available on over 700 monitors.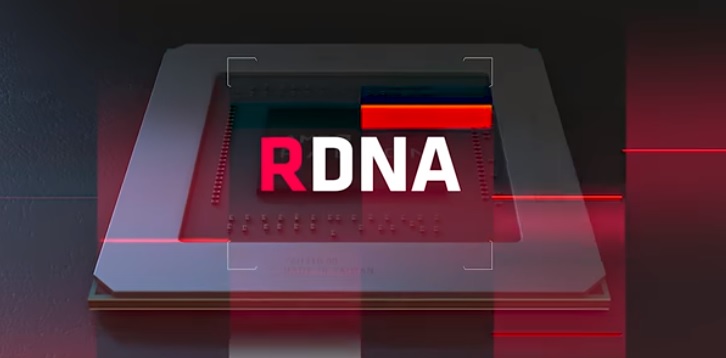 Gaming RDNA Architecture
RDNA architecture is engineered for the next generation of high-performance gaming. It's the DNA that powers your games, the DNA that brings your games to life, the DNA that keeps evolving, the DNA that brings your games to life.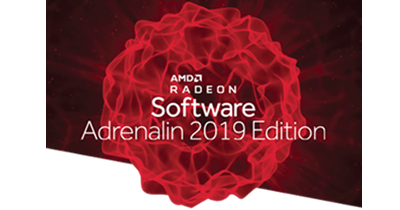 Intuitive Gaming Features
AMD Radeon™ Software Adrenalin 2019 Edition gives you more control over your gaming experiences. The software's intuitive interface enables players to stream, share and tweak graphics settings in real-time without missing a second of the action or compromising in-game performance.
Seize your gaming victories with easy streaming capabilities of Radeon™ ReLive
Work smarter and cooler with Radeon™ Chill—dynamically helping save power while gaming
Tailor your gameplay with custom profiles and enhance your PC performance with Radeon™ Wattman
Tailor preferences without having to leave your game with Radeon™ Overlay
Get Day-0 driver support and more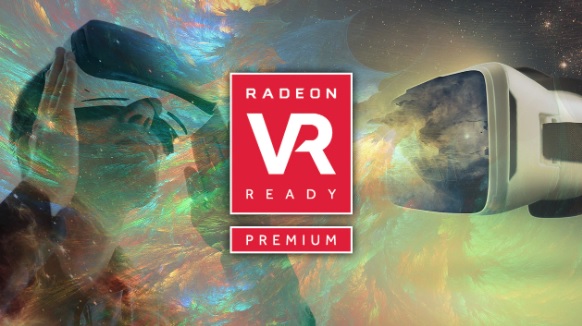 AMD VR Ready Premium
For extraordinary virtual reality experiences.
Experience the new generation of compelling Virtual Reality content with the Radeon™ graphics card paired with the leading VR headsets. The Radeon™ card coupled with AMD LiquidVR™ technology delivers a virtually stutter-free, low latency experience, essential for remarkable Virtual Reality environments. Industry-leading innovation and powerful performance enables the Radeon™ to deliver premium experiences on high-end VR games, entertainment and applications.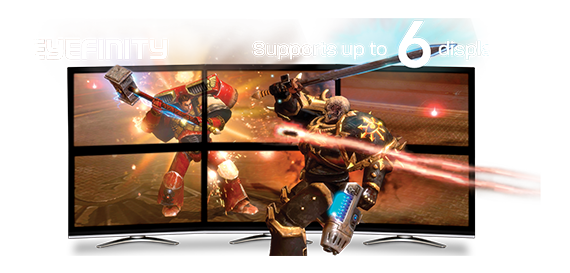 AMD Eyefinity Technology
Multidisplay technology for gaming, productivity and entertainment.
Expand your territory and customize your field of vision. Connect up to six displays on a single GPU for dynamic, panoramic multi-screen gaming. You'll get an expansive experience that's truly out of sight. (additional displays may require the use of MST hub). Latest Display Connections
Ready for the latest displays.
Radeon™ GPUs with the Radeon architecture support HDMI® 2.0b and DisplayPort™ 1.4 w/ DSC for compatibility with a new generation of monitors that would make any gamer excited:
1080p @ 240Hz
1440p @ 240Hz
4K @ 120Hz
1440p Ultra-Wide @ 190Hz
8K @ 60Hz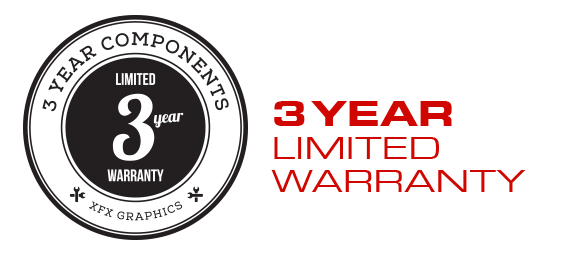 XFX 3-Year Warranty
Giving you the performance you have come to expect from XFX.
Even though we trust that our high-quality products will continue working at peak performance well beyond your use of it, we want to put our word behind that promise. That is why we offer our 3-year warranty with this series of graphics cards. This means that your product is protected by a 3-year limited hardware warranty on manufacturing defects of anything on the card.