Huawei Mate 10 Pro is designed for excellence in every way. A stunning 6-inch 18:9 screen with HDR 10 support gives you ultimate visual pleasure. The powerful and smart Kirin AI processor makes everything you do feel snappy and responsive. Effortlessly take great shots with AI-enhanced Leica dual cameras. And thanks to the large 4000mAh battery, SuperCharge technology and smart battery management, even heavy-duty phone users can enjoy and play to their hearts' content. You'll also love features like Gigabit LTE, NFC, and IP67 water resistance.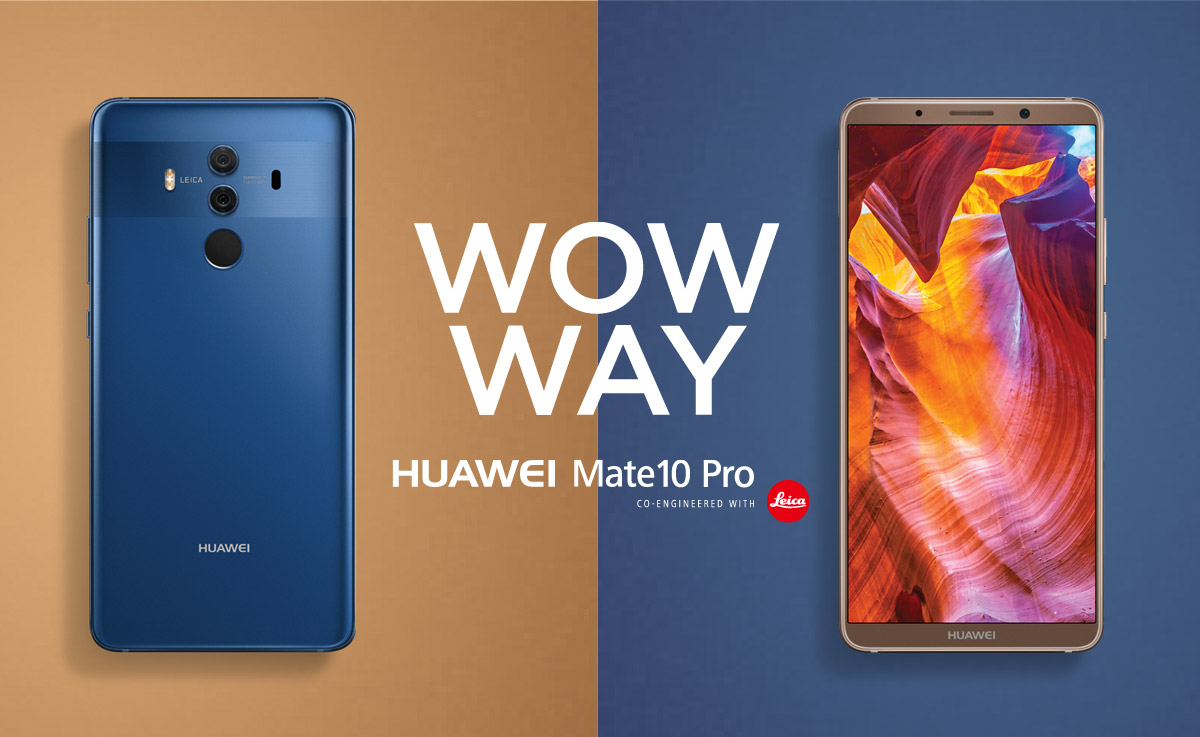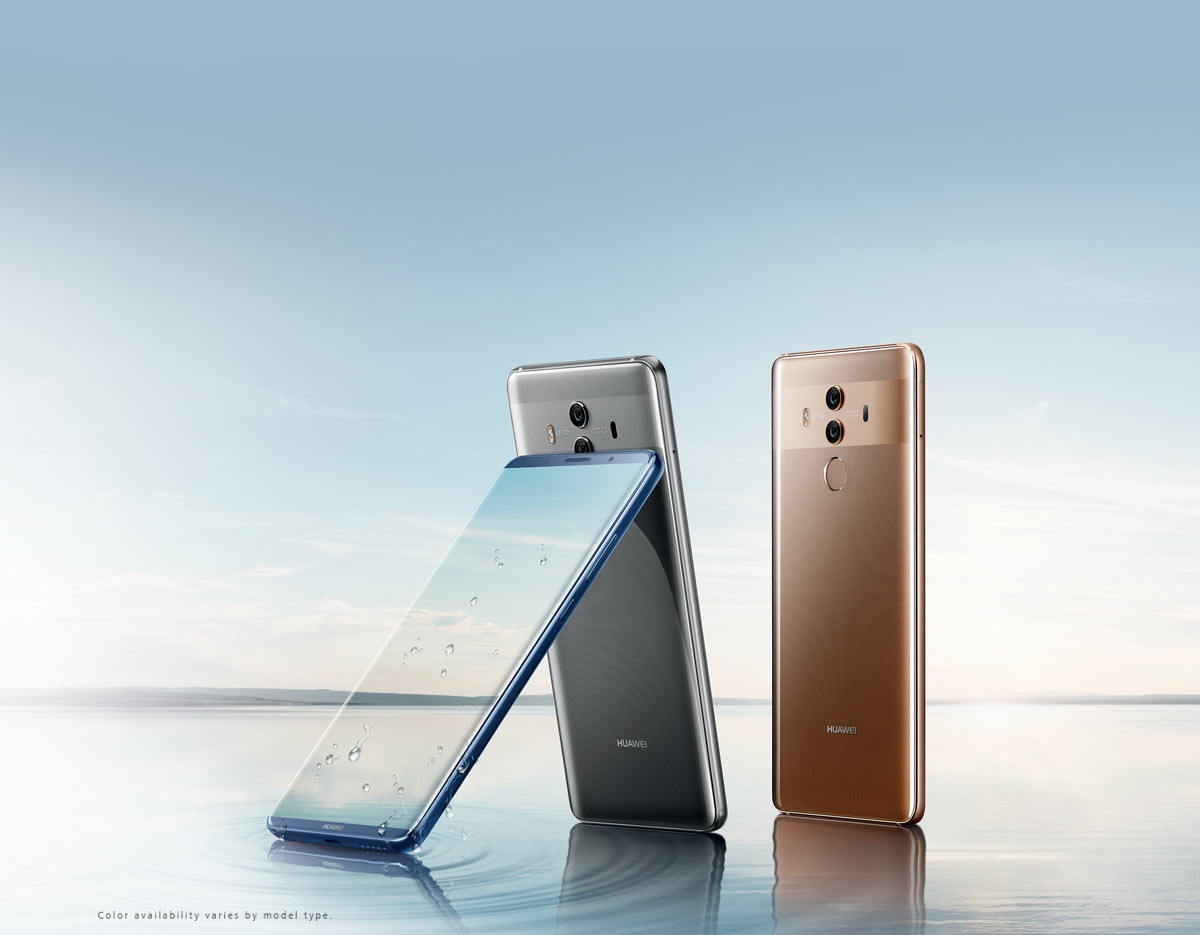 Ultimate Design
Designed to bring your vision to life: Enjoy an immersive viewing experience with HDR 10 technology.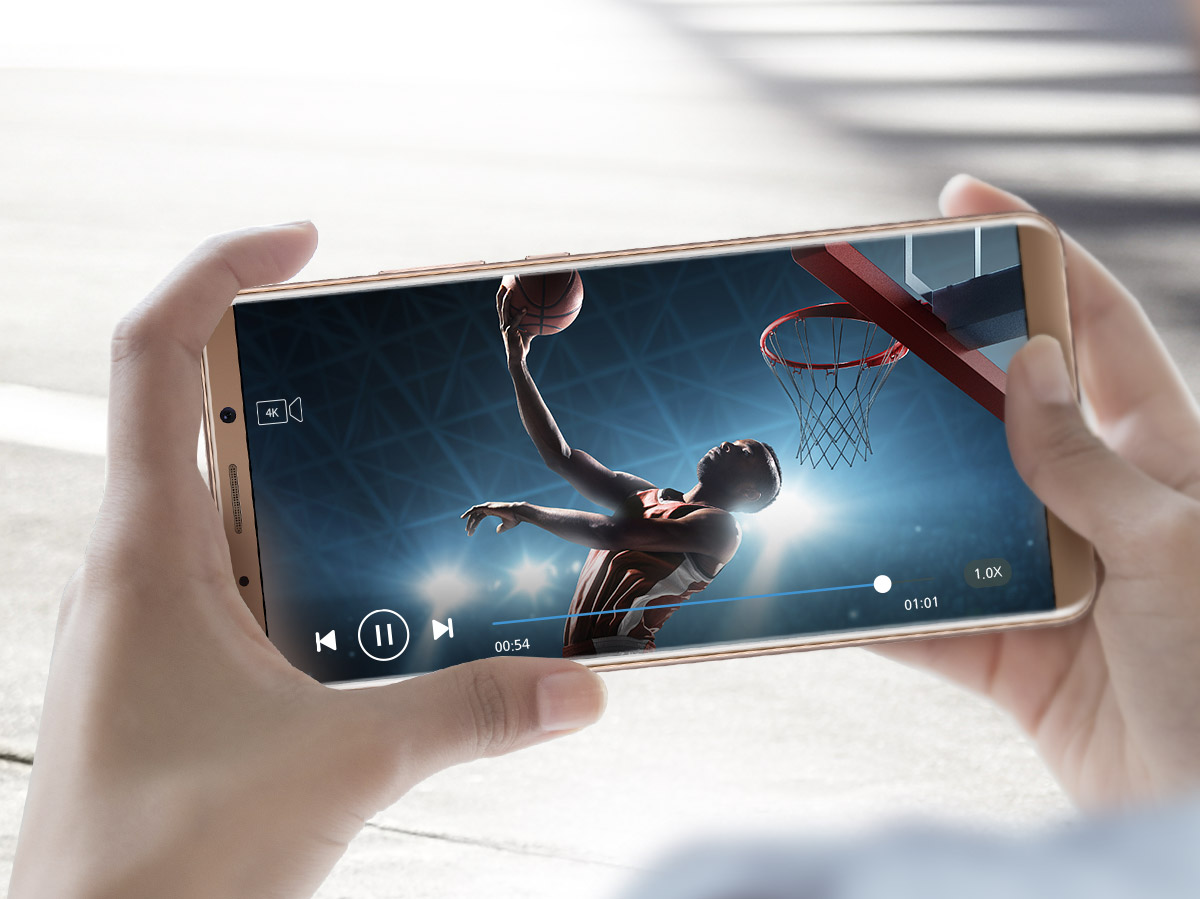 Lightning Fast Gigabit LTE Speed
With 2X Speed of 4G LTE, the HUAWEI Mate 10 Pro gives you the ultimate Gigabit LTE experience capable of speeds up to 1 gigabit per second. Never again pause for slow connections.
Speed claim is based on device capability of supporting 4x4 MIMO, 4CC CA, 256QAM, and LAA vs. conventional 4G LTE devices. 4G LTE is in reference to standard 4G LTE networks utilizing traditional 2x2 MIMO setup or less. Actual speed may vary by carrier, location, network environment, content provider, and other relevant factors.
Long-lasting Power
A full day's power for heavy duty users with smart battery management.*



*Typical value. Based on results from HUAWEI lab tests. Battery life depends on actual usage situation.
*Based on results from HUAWEI lab tests. Lab test environment: temperature at 25 °C, relative humidity: 45% to 80%. By using HUAWEI SuperCharge charger, the phone was charged from 1% power in 4G network standby status.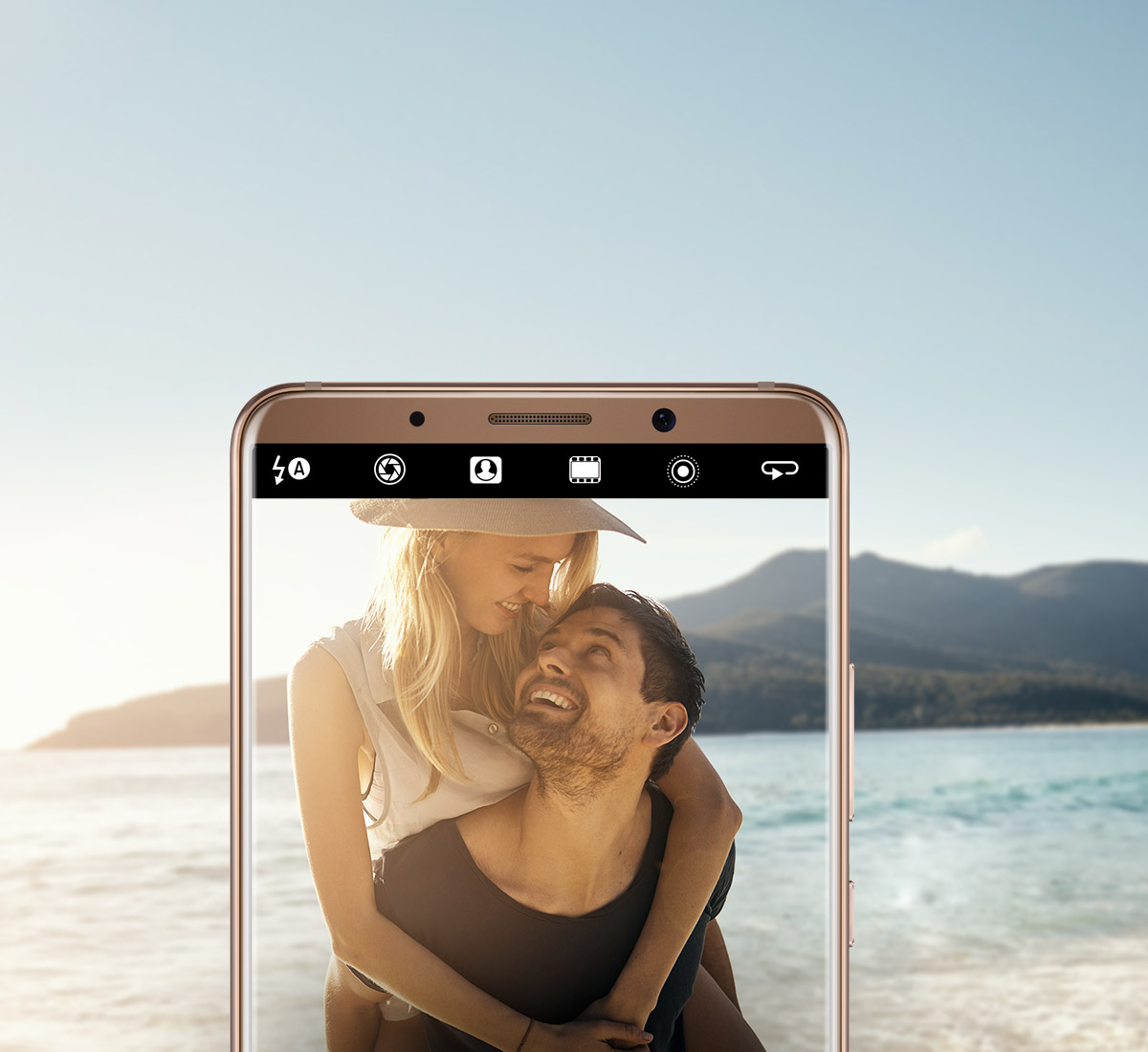 Intelligent Photography
Point and shoot perfection to capture every perfect moment.

New Leica Dual Camera f/1.6 Aperture

Ultimate Performance
The world's first Kirin AI processor offers a faster, stronger and more seamless smartphone experience.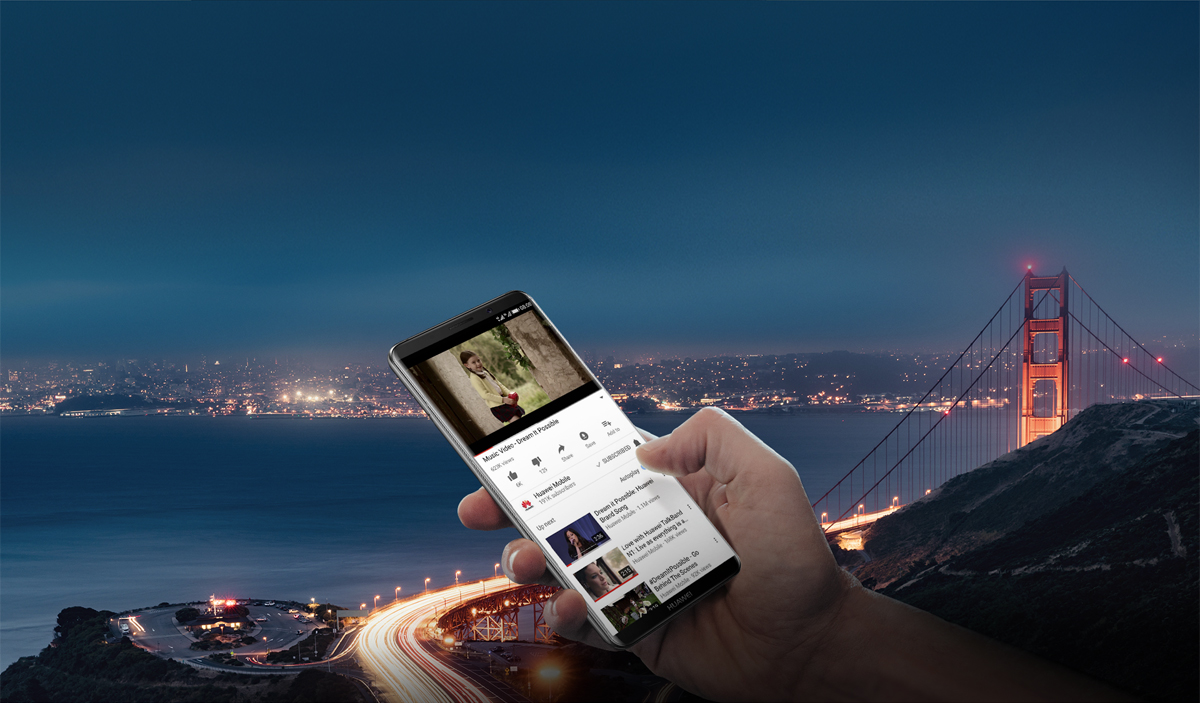 Intelligent Mobile Experience
Stay Connected Wherever Life Takes You.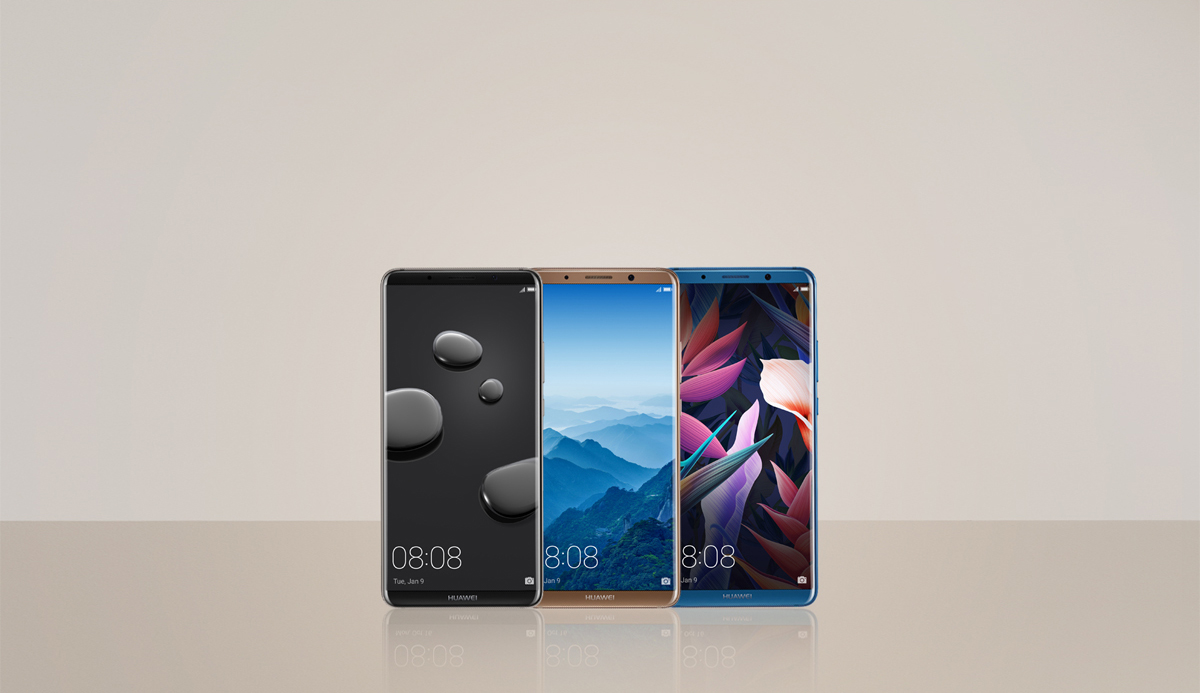 Intelligent User Interface
Intuitive and simple, the all-new EMUI 8.0 takes usability to new levels.


Speed Up Your Life
Intelligent and simple ways to manage your life. App Twin: Conveniently log into two accounts on social media apps at the same time.
Not all social networking service apps supported, this feature is currently not supported on third-party launchers.

BATTERY DESIGNED TO LAST
With a large 4000 mAh battery coupled with smart battery management that learns from user behaviors to intelligently allocate resources, power-waste is minimized and battery life maximized.
IN SAFE HANDS
HUAWEI's SuperCharge tech not only provides a whole day's use with a single 20-minute charge*, its 15-layer safety system is certified by TÜV Rheinland.
*Typical value. Based on results from HUAWEI lab tests. Battery life depends on actual usage situation.
*Based on results from HUAWEI lab tests. Lab test environment: temperature at 25 °C, relative humidity: 45% to 80%. By using HUAWEI SuperCharge charger, the phone was charged from 1% power in 4G network standby status.
*All data in the foregoing pages are theoretical values obtained by HUAWEI internal laboratories through tests carried out under particular conditions. For more information, refer to the aforementioned product details. Actual data may vary owing to differences in individual products, software versions, application conditions, and environmental factors. All data is subject to actual usage.
HUAWEI's New Intelligent Leica Dual Camera deliver exceptional image quality with minimum effort.
NEW LEICA DUAL CAMERA WITH f/1.6 APERTURE
With the new Leica Dual Lens with f/1.6 aperture, you can easily take beautiful shallow depth of field pictures, crystal clear low-light photographs and blur-free shots of objects on the move. The 20MP monochrome sensor and 12MP RGB sensor with Optical Image Stabilization captures more light for professional-grade performance.
AI POWERED REAL-TIME SCENE AND OBJECT RECOGNITION
The HUAWEI Mate 10 Pro uses intelligent photographic algorithms for real-time identification of various scenes and objects* to automatically adjust color, contrast, brightness, exposure and more to produce vibrant, sharp, perfectly framed photographs.
*flowers, blue sky, plants, nightscape, food, sunset/sunrise, text, beach, snow, portraits and more.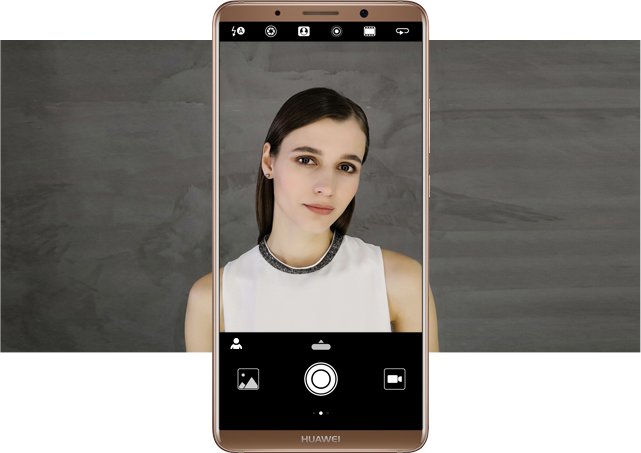 BRILLIANT BOKEH EFFECT, PERFECT PORTRAITS
Powered by AI, the HUAWEI Mate 10 Pro seamlessly evokes a professional bokeh effect by shifting the focal point onto the subject of the photograph, creating picture-perfect portraits and selfies.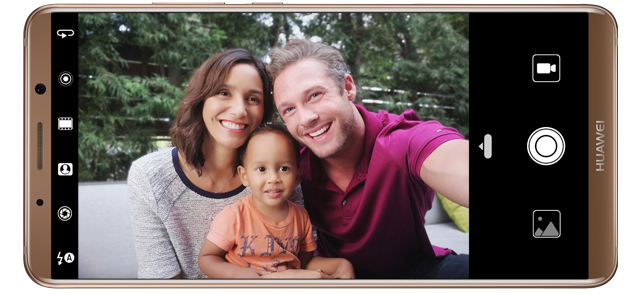 Huawei's AI features and New Leica Dual Camera deliver state-of-the-art photography no matter who is behind the camera.
APP-SOLUTELY AMAZING: ONE APP, DUAL LOG-IN
The Phone Clone app lets you conveniently transfer all your photos, contacts and data to your new HUAWEI smartphone. Simply download the Phone Clone app through Google Play on your old phone and new HUAWEI Mate 10 Pro and follow the onscreen instructions to transfer your data.
App does not come pre-installed on HUAWEI Mate 10 Pro , must be downloaded separately.
EFFICIENCY BY DESIGN
HUAWEI Mate 10 Pro offers two customized home screens to efficiently manage your apps. Choose the standard Home Screen, or utilize the Drawer style to reveal all your apps with one simple tap.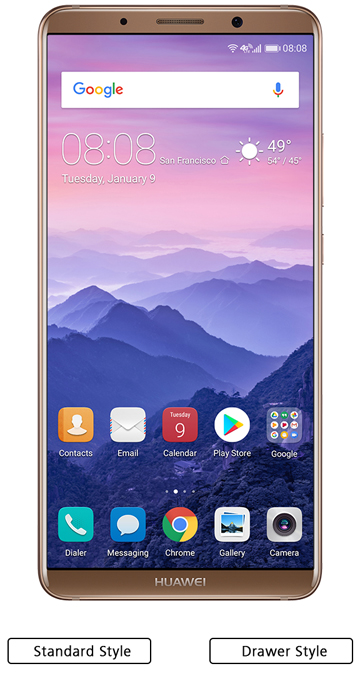 S MARKS THE SPOT
HUAWEI Mate 10 Pro supports HUAWEI's proprietary Knuckle Sense Technology that lets you draw an "S" to capture a long screen shot, letting you share what's important quicker and easier.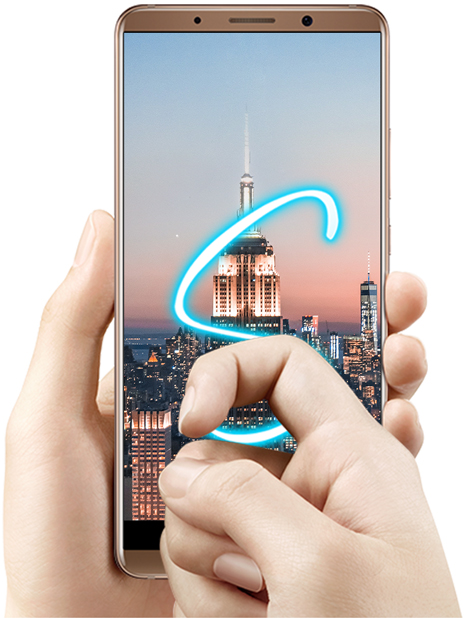 Images displayed are for illustration only.
LOCKED AND LOADED
Even if your phone is locked, you can still capture the perfect moment with HUAWEI Mate 10 Pro's quick photo technology. When your HUAWEI Mate 10 Pro is locked, just double click the volume down button to take an amazing photo.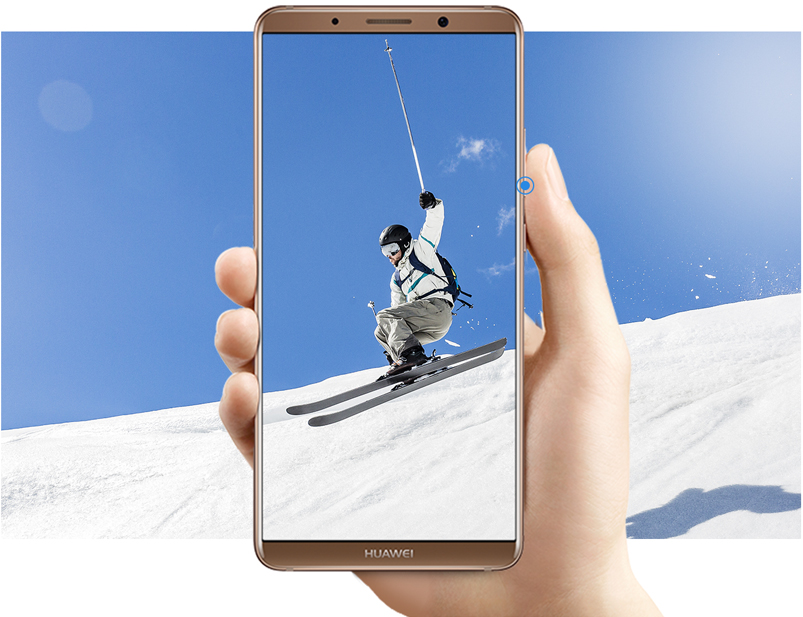 Images displayed are for illustration only.
The HUAWEI FullView Display is a stunning new 6-inch screen with an 18:9 display ratio, barely-there bezel and HDR10 technology for intensely vivid and bright colors.
ICONIC CRAFTSMANSHIP
The signature stripe highlights the dual lens cameras, embodying the perfect symmetry of superior smartphone design. The ergonomic curved glass fits comfortably in your palm, feeling as good as it looks.

TOUGH ENOUGH FOR EVERYDAY LIFE
With IP67-rated water and dust resistance, the HUAWEI Mate 10 Pro is strong enough for whatever life throws at you.*

*HUAWEI Mate 10 Pro is splash, water and dust resistant, and was tested under controlled laboratory conditions with a rating of IP67 under IEC standard 60529. Splash, water and dust resistance are not permanent conditions, and resistance may decrease as a result of normal wear. Do not attempt to charge a wet HUAWEI Mate 10 Pro. Liquid damage is not covered under warranty.
Enjoy ultra-fast download speeds and a superior phone signal.
FASTER, ULTRA-STABLE CONNECTIVITY
Intelligent cell search and handover technology means that your HUAWEI Mate 10 Pro will stay connected, even when you're traveling at high speed.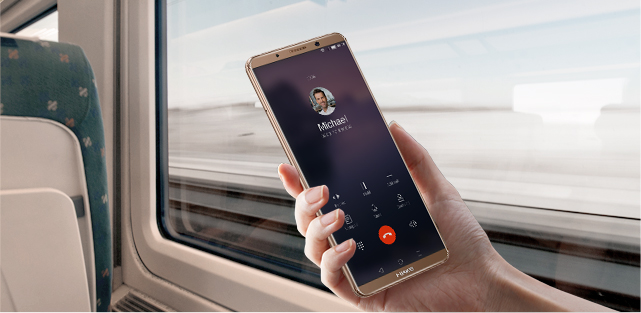 BE HEARD WITH PERFECT CLARITY
This integrated function means even the faintest whisper* spoken into the HUAWEI Mate 10 Pro will be heard clearly at the other end. The HUAWEI Mate 10 Pro's enhanced technology boosts low-volume calls*, while advanced ambient noise cancellation transforms noisy calls** into high-quality conversations.
REAL-TIME TRANSLATOR
Instantly translate text, voice, conversations and images into 50+ languages with AI powered acceleration. With the pre-installed Translator you can translate one-to-one or group conversations across devices rapidly. Running within the HUAWEI Mate 10 Pro's AI-ecosystem means this app can translate text and images faster than ever.
*Under average sound and reverberation level indoor conditions such as a quiet meeting room, office and living/bed room.
**Traffic, train station and airport are typical referenced noisy environments.
The Kirin 970 processor boosts speed, responsiveness and efficiency through its AI computing platform with a dedicated NPU (Neural-Network Processing Unit).
TAKING PERFORMANCE TO NEW HEIGHTS
The HUAWEI Mate 10 Pro is smart, quick and adaptive, understanding and responding to real-world situations swiftly. With cutting-edge 10 nm tech, an 8-core CPU and 12-core GPU, the HUAWEI Mate 10 Pro delivers premium performance at lightning speeds using much less power.
The NPU is a technological leap forward, delivering AI computation capabilities that boost efficiency by 50x and performance by 25x*. Because the HUAWEI Mate 10 Pro's NPU operates independently from standard cloud-based processing, your privacy is protected.

*Based on HUAWEI lab test results. Compared to 4 x Cortex A73 CPU in the same AI computation scenario.
KEEP YOUR PHONE IN PRIME CONDITION
The Kirin 970 is engineered to understand how you use your HUAWEI Mate 10 Pro, predicting the most efficient modes and optimizing performance, keeping it in top condition.